Please also see my
All-Time World Cup Team Index.
North Rhine-Westphalia
is the most populous state in Germany.
It is the home of many current and former Bundesliga clubs such as
Borussia Dortmund, Bayer Leverkusen, FC Köln, Borussia Mönchengladbach, Schalke 04, MSV Duisburg, VfL Bochum, Arminia Bielefeld, etc.
Team
GK: Toni Schumacher
He was the keeper for the German national team throughout the 1980's, winning the European Championship in 1980. He led West Germany to the Final at both Spain 1982 and Mexico 1982. He was remembered for an iugly incident against Patrick Battiston during the semifinal of Spain 1982. His club career was associated with Koln.
H established Germany's number 1 befo
re the WC Finals in 2010. He helped Germany winning their 4th WC in 2014.
He started with Schalke 04, but moved to r
ival Bayern Munich in 2010.
He is the second most expensive keeper of all-time.
He was the starting keeper for West Germany at WC in 1954. His longest club stint was with Fortuna Düsseldorf.
RB: Berti Vogts
Nicknamed "Der Terrier". He won 5 Bundesliga titles with the great
Borussia Mönchengladbach of the 1970's.
He famously marked Johan Cruyff out of the WC Final in 1974. He also won a European Champions in 1972.
RB: Paul Janes
He was a member of the Breslau Eleven that beat Denmark 8:0 in Breslau in 1937. His longest club stint was with Fortuna Düsseldorf. He went to two WC Finals in 1934 and 1938.
CB: Willi Schulz
He was one of the best center-backs in the world during the 1960's. He started as the sweeper in the 1966 WC Finals. He went to Mexico 1970, but was injured. He played for Hamburger and Schalke 04.
CB/LB:
Karl-Heinz Schnellinger
In his prime, he was considered one of the best leftbacks in the world. He participated in 4 World Cup Finals, unfortunaitely sandwiched between West Germany's two WC winning tournaments. He was remembered one of the first German to star in Italy. He had a remarkable stint with AC Milan and As Roma. He won the European Cup in 1969.
SW:
Bernard Dietz
Dietz was the captain of the national team that win Euro 1980. He also went to Euro 1976 and Argentina 1978. He played for Duisburg and Schalke 04.
CB: Mats Hummels
He came through the Bayern Munich youth system, but only made one appearance. He signed with Borussia Dortmund in 2009 after a loan spell. He was a part of the 2014 WC winning team, where he was voted into the team of tournament.
LB: Horst-Dieter Hottges
He started his entire career with Borussia Mönchengladbach, but found successes with Werder Bremen. He went to England 1966, Euro 1972 and West Germany 1974. He lost his starting position after West Germany lost to East Germany at the WC in 1974.
LB: Erich Juskowiak
He made his national team debut in 1951, but did not go to Swizterland 1954. He was the starting leftback for the West German national team at Sweden 1958. He became the first German player to be sent off in a WC Finals match over there.
CM: Gunther Netzer
The star of the great
Borussia Mönchengladbach of the 1970's. He won the European Championship in 1972 and then, the WC in 1974. His best performance, however, was in 1972, where he was the star at the quarterfinal against England. He later joined Real Madrid and outperformed Johan Cruyff's Barcelona in the early 1970's.
Gunter Netzer
CM: Horst Szymaniak
He was one of West Germany's greatest midfielders. He went to the WC Finals in 1959 and 1962.
He pla

yed for

SpVgg Erkenschwick, Wuppertaler SV, Karlsruher SC, Calcio Catania, F.C. Internazionale Milano, A.S. Varese 1910, and Tasmania 1900 Berlin. He joined Inter Milan in 1962 at a time when Serie A clubs seldom signed German players.
DM/RB:
Rainer Bonhof
He was the youngest member of the WC winning team in 1974. He assisted in Gerd Muller's winning goal at the Final. He also played at Argentina 1978 and a part of Euro 1980 winning team.
He played with Borussia Mönchengladbach. He joined Valencia in 1978, which
prompted the DFB to remove their ban on selecting foreign based players for the national team. He was known for his powerful shot. He was born near the German border with Netherlands. He is of Dutch ancestry.
CM: Fritz Szepan
Szepan is one of Germany's greatest midfielder. He played in 1934 and 1938 WC Finals. He played his entire career with Schalke 04. He was voted as the club's greatest ever player.
LM/CM: Wolfgang Overath
One of the best left midfielder in history, He won the 1974 WC, where he kept Netzer from the starting lineup.
In total he won 81 caps for the national side between 1963 and 1974, scoring 17 goals.

He spent all of his career with Koln.
AM: Mesut Özil
A third generation German of Turkish decent.
He
played for Schalke 04 and Werder Bremen before making a dream move to Real Madrid after South Africa 2010.
He
moved to Arsenal in 2013.
He was a part of Germany's World Cup winning team in 2014.
Özil
RW: Helmut Rahn
Rahn

was a star of the 1954 WC team. He scored the winning goal at the final vs Hungary. He is considered one of the best ever German winger. He played with Rot-Weiss Essen.
LW:
Hans Schafer
The left wing on the 1954 WC winning team. He played in three World Cup Finals. He was German Player of the Year in 1963.
He spent all of his career with Koln.
FW:
Klaus Allofs
He made his name with
Fortuna Düsseldorf, where he was the Bundesliga top-scorer in 1978-1979, winning two German Cup with them. He later joined Koln
, Olympique de Marseille, Bordeaux and Werder Bremen. He was the top scorer at Euro 1980, where West Germany was the champion. He played at Euro 1984 and Mexico 1986.
ST/LW: Jupp Heynckes
He was the third highest goal scorer in Bundesliga's history. He spent most of his career with
Borussia Mönchengladbach and was part of their glorious team in the early 1970's. He won Euro 1972 and the WC in 1974. He played the first two matches at West Germany 1974, but suffered an injury and missed the rest of the tournament.
FW: Karl-Heinz Rummenigge
He was one of the best players in the world during the 1980's. He was the European Player of the Year in 1980 and 1981. He won the European Championship in 1980 and
was part of the squad that finished runner-up at the 1982 FIFA World Cup in Spain and at the 1986 World Cup in Mexico. He was a young star in Argentina 1978. He spent the best parts of his club career with Bayern Munich and Inter Milan.
Rummenigge
ST:

Horst Hrubesch
He was a part of West German national team player pool throughout the 1980's. He was known as one of the most powerful header of the ball in the game. He was known for his partnership with Manfield Kaltz who was one of the best crossers in the game. Together, they won the European Cup in 1983 with Hamburger.

Honorable Mention
Jens Lehmann,

Thomas Helme,
Torsten Frings

, Reinhold Münzenberg

, Ernst Kuzorra.
Squad Explanation
Jens Lehmann deserved to be on this team, but two of the keepers have won a WC for Germany while Schumacher was among the greatest ever German keepers.
Starting lineup
Formation: 4-4-2
Several defenders are possible starters. Paul Janes and Mats Hummels could have started.

West Germany did not start Overath and Netzer on the field together, but I would try it here.

I have better attackers than Horst Hrubesch, but he is an out and out striker. He probably would form a better partnership with Rummenigge.

Schafer could replace Overath. He is a better winger and might fit Hrubesch.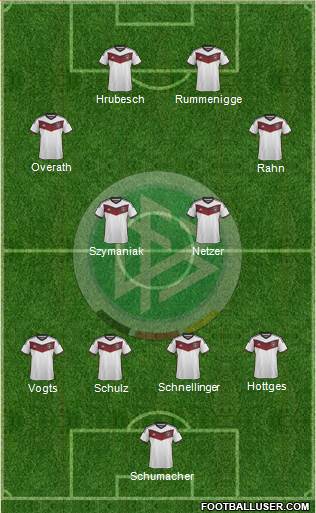 Formation II: 4-3-3
The team has depth. I can be flexible in its formation.

Hrubesch is the target man with Schafer and Rummenigge on each side of the flank.