World Cup 1998
This is my all-time team for

France

. If there were an All-Time World Cup, this would be the 23 players I would bring to the tournament.
Please also see my
All-Time World Cup Team Index.
South France
Players born in the Overeseas Department and former French Colonies
French Black Players
French Algerian
French Players Capped by Other National Teams
France at USA 1994
France is the founding member of both FIFA and UEFA. They also organized the first European Championship. They have two very successful periods in history. From 1982 to 1986, they won the European
Championship in 1984 and reached the semifinals of both World Cup in 1982 and 1986. Then, in 1998, "Les Bleus" won their first World Cup and followed by another
European
Championship in 2000. France also had a great team in the1958 World Cup Finals. They came third. Just Fontaine scored 13 goals and Raymond Kopa won the Ballon d'Or that year.
France winning Euro 1984
Team
GK: Julien Darui
In 1999, he was elected best French goalkeeper of the century by L'Équipe.
Born in Luxembourg during World War I, Darui was capped 25 times for France.
GK: Fabien Barthez
He is France's most decorated goalkeeper.

He won the WC in 1998 at home and then, the European Championship two years later. He also won Champions League medal
with Marseille in 1993. He had 87 caps for
"Les Bleus"

. For domestic football, he played with Toulouse, Marseille, AS Monaco, Manchester United, Nantes
Fabien Barthez
GK: Pierre Chayrigues
The youngest ever keeper capped by France when he was first capped in 1911 and the first prominent French goalkeeper. He was part of France national football team squad at the 1924 Summer Olympics.
RB/LB: Manuel Amoros
Amoros is widely considered to be France's greatest fullback. He was a part of the Golden Generation of the 1980's. He
played in the European Championships finals of 1984 and 1992, winning the 1984 version. He also played in the World Cup finals in 1982 and 1986. He won the Champions League with Marseille in 1993. He also played for Monaco and Lyons.
RB/CB: Lilian Thuram
Thuram is

France's most capped player. He was known
for his strength, pace and stamina.
He played at the top flight in France, Italy and Spain for over 15 seasons, including ten in the Serie A with both Parma and Juventus. With France, Thuram won the 1998 World Cup and Euro 2000, and was in the runner-up squad for the 2006 World Cup in Germany. He scored two goals vs Croatia in the semifinal of the WC in 1998.
Thuram vs Croatia
CB: Marius Tresor
N
amed by Pelé as one of the top 125 greatest living footballers. He was the French captain before Platini's arrival.
He went to the World Cup in 1978 and 1982. In 1982, he scored one of the extra time goal against West Germany at the semifinal. He also played for Olympique de Marseille and Girondins de Bordeaux.
CB: Robert Jonquet
He played with the legendary
Stade de Reims in the 1950's. He was also the captain of the French national team during that era and went to the 1958 World Cup in Sweden.
CB/DM: Marcel Desailly
Marcel Desailly

was considered to be one of the greatest defensive players during the 1990's. He played 116 times for France, winning the WC in 1998 and the European Championship in 2000. He was the
first player to win the European Cup in consecutive seasons with different clubs, when he won it with
Marseille in 1993 and AC Milan the following year.
He also played for Nantes and Chelsea, among others.
Marcel Desailly
CB/LB: Maxime Bossis
Named Footballer of the Year by France Football in 1979 and 1981. He won the European Championship in 1984. He went to the World Cup in both 1978, 1982 and 1986. From 1985 to 1992, he held the French record of caps, He was a star of the great Nantes team of the 1980's. He played briefly for RC Paris.
LB: Bixente Lizarazu
Bixente Lizarazu was

the leftback for the all-conquering French team of 1998 and 2000. He had 97 caps. He was also a star at Bayern Munich for 9 seasons. He won the Champions' League in 2001. He also played for Atletico Bilbao and Bordeaux.
DM: Didier Deschamps
He
was only the second captain in history to lift
the three big trophies: the Champions League trophy, the World Cup trophy and the European Championship trophy. The prime of his career was spent with
Marseille and Juventus, where he won a
Champions League for each club. He also played for Nantes, Chelsea and Valencia.
Didier Deschamps
CM: Jean Tigana
Tigana played 52 times for France. He was a member of the great French side of the 1980's. He won the Euro 1984 playing in the famous "Magic Square". He also went to the 1982 and 1986 Wolrd Cup Finals.
He played with Bordeaux for eight years, winning three league titles and three French Cups. He also spent time with Toulon, Lyon and Marseille.
CM: Alain Giresse
He was the French footballer of the year in 1982, 1983 and 1987. He was part of the "Magic Square" that won the European Cup n 1984. He also played in the WC finals in 1982 and 1986. He played with Tigana at Bordeaux, a side that dominated French football in that period.
CM:
Patrick Vieira
He started his career with Cannes. He is an Arsenal all-time great. He
won three Premier League titles and four FA Cups.
In England. he was famous for his rivalry with Roy Keane. He later played with Juventus, Inter Milan and Manchester City.

With
"Les Bleus"

, he won the WC in 1998 and European Championship in 2000. He earned 107 caps.
AM: Michel Platini
Michel Platini

is one of the greatest footballers of all time. He scored 9 of France's 14 goals as they won Euro 1984 at home.
It was probably the greatest individual performance in a tournament. He won the Ballon d'Or three times, in 1983, 1984 and 1985. With Juventus, he won the European Cup in 1985, the first ever for the club. He started with Nancy and was a member of the famous team with AS Saint-Etienne.
Michel Platini at Euro 1984
AM: Zinedine Zidane
He
was named the best European footballer of the past 50 years in the UEFA Golden Jubilee Poll, and has been described as one of the greatest players in the history of the game. He won the FIFA World Player of the Year award three times.
He led France to victory at
the World Cup in 1998 and the European Championship in 2000. With Real Madrid, he also won the Champions League in 2002, where he scored one of the greatest goals in history at the Final.
Zinedine Zidane
AM/RW: Raymond Kopa
He was considered to be
"Les Bleus"

's greatest player before the emerge of Platini.
He won the
the European Footballer of the Year in 1958 and three European Cups with Real Madrid in the 1950's. He also played with Stade de Reims before joining the legendary Real Madrid team of the 1950's.
Raymond Kopa
RW/LW: Franck Ribery
Ribery is one of the best French players of his generation. Individually, Ribéry is a three-time winner of the French Player of the Year award and has also won the German Footballer of the Year becoming the first player to hold both honours. He won the Champions' League in 2013 with Bayern Munich. He played in two World Cup Finals and helping France to a 2nd place in 2006.
RW/LW: Robert Pires
Pires played for Metz, Marseilles, Villarreal and Aston Villa, but was better remembered as a part of the "French Connection" at Arsenal. He played there from 2000 to 2006. For France, he was a part of the generation that won the World Cup in 1998 and European Championship in 2000. He was capped 79 times.
FW: Theirry Henry
Henry is the all-time leading scorer for both Arsenal and France. He was named the PFA Players' Player of the Year twice, and the FWA Footballer of the Year three times. He started with AS Monaco in 1994. The, he spent 8 seasons with Arsenal, where he enjoyed the peak of his career.
He also played for Juventus, Barcelona and NY Red Bulls.

He earned 123 caps and was a part of France's Golden Team form 1998 to 2002.
Thierry Henry
FW: Eric Cantona
Before joining Leeds United in 1992, Cantona was known as the bad boy of French football. He moved to England to restart his career. In England, he became a huge star. He won the league title with Leeds United and moved
to Manchester United. At Manchester United, he became one of their best ever players. For the national team, he was a part of the ill-fated national team that failed to qualify for the WC in 1994. His national team career was short-lived.
ST: Just Fontaine
Fontaine is the record holder for most goals scored in a single edition of the World Cup. He scored 13 goals in 6 matches in the 1958 WC Finals in Sweden. He won 21 caps scoring 30 goals. He started with RSM Casablanca and Nice before starring for
Stade de Reims of the 1950's.
ST: Jean Pierre Papin
He is the Ballon d'Or winner in 1991. He was a member of the great
Marseille team of the 1990's, but left the season before they lifted their first ever European Cup.
He later played for AC Milan, FC Bayern Munich, Bordeaux, Guingamp, JS Saint-Pierroise and US Cap-Ferret. Papin also played 54 times for the French national team.
Jean Pierre Papin
Honorable Mention
Larbi Benbarek,
Roger Marche, Laurent Blanc, Patrick Battiston,
Luis Fernandez, Claude
Makelele,
Youri Djorkaeff
, Eric Cantona,
Patrice Evra

, Hugo Lloris, Joel Bats, Dominique Rocheteau, Roger Piantoni, David Trezeguet.
Squad Explanation
-- Fabien Barthez is France's most decorated keeper, but Hugo Lloris might have been better. Lloris is underrated. However, I still selected Barthez over him because of the trophies Barthez won for France. Most people actually put Joe Bats ahead of Lloris.
-- Larbi Benbarek and Youri Djorkaeff
were not selected because the team already had Kopa, Zidane and Platini. Instead, I picked two wide players Ribery and Pires to give more width to the offense.
-- Alain Giresse was a borderline case. I took him because he formed a partnership with Platini and Tigana. I want to keep the "Magic Square".
Luis Fernandez, the final member of the "Magic Square" missed out because of
Marcel Desailly,
Patrick Vieira

and
Didier

Deschamps. The defensive midfield position is very strong.
-- Somehow, people do not rate Deschamps very much. He was selected because of his leadership. Otherwise, I would have selected
Luis Fernandez or

Makelele.
-- I only picked 7 defenders for the team.
Thuram and Bossis can cover both the centerback and fullback position. So I dropped both Laurent Blanc and Roger Marche. Marche is one of the greatest left backs ever from Europe, but Amoros and Bossis could cover the leftback position. And I preferred Bixente Lizarazu. Instead, I added another attacker. The choice of this attacker was between Dominique Rocheteau, Roger Piantoni, David Trezeguet and Eric Cantona.
--
Roger Piantoni's career overshadowed by both Raymond Kopa and Just Fontaine. David Trezeguet got overshadowed by Henry.
-- Eric Cantona dominated the Premiership, but he had done little for France. I thought he might have been overrated since the Premiership had not reached its potential when he was active. Manchester United's European record under him was not that great. He also had issues with various French players. Nevertheless, Eric Cantona's reputation still put him ahead of Piantoni and Trezeguet. The last spot went to Eric Cantona.
Starting lineup
Formation I: 4-4-2
The formation is based upon the "Magic Square" formation of the 1980's.
Platini, Bossis, Tresor and Amoros played in this "Magic Square" formation in the same position during the 1980's.

For my team, Desailly starts in the midfield because he was a better defender than the other alternatives. Thuram was moved to the central back because he should be a better partner for Tresor. Blanc was too similar to Tresor.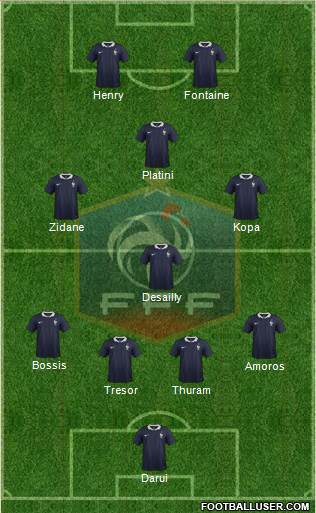 This should be the more realistic formation. Raymond Kopa played on the right side for Real Madrid and Zidane also played on the left for them as well. At the 2006 World Cup Finals, Henry was a lone striker so he knew this role well. Tigana is not the automatic starter. I am happy to switch him with Vieira, Giresse or even Deschamps.